New Toyota 2020 Toyota GR Supra Review near Warwick RI for Sale in North Kingstown, RI near Warwick
2020 Toyota GR Supra Review near Warwick RI
View Inventory


Vehicle Overview
The Toyota Supra was a popular sports car that performance-minded drivers near Warwick overwhelmingly selected for several decades. Many drivers were disappointed when Toyota discontinued the popular line in 2002. However, the Supra is now back, and it is better than ever. The 2020 Toyota GR Supra redefines what a sports car should be inside and out. Our trusted Toyota dealership near Warwick is your leading source for a first look at this top model.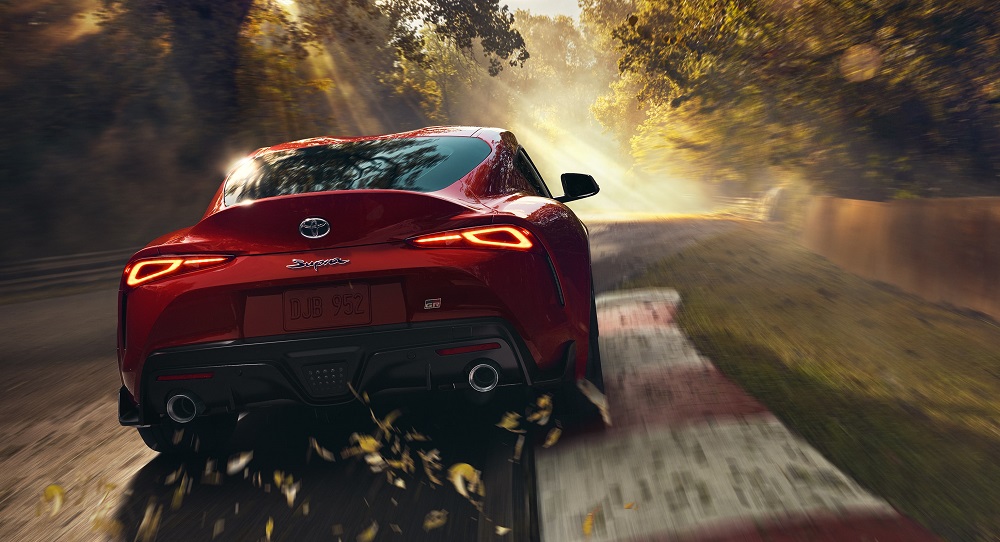 Exterior – 2020 Toyota GR Supra
The exterior design of the 2020 Toyota GR Supra is stunning and will garner envy everywhere you drive. The entire exterior flows seamlessly to create beautiful fluidity from front to rear. The hood has muscular definition over the wheel wells, and it tapers sharply into a modified grille on the front end. The headlights have jewel-like character elements as well as an extended LED ribbon that flows deeply toward the grille. The roof has an innovative double-bubble design that improves aerodynamics, and this is bolstered further by accentuation along the sculpted side panels. Definition continues over the rear wheel wells, and this flows into a modified spoiler. The LED ribbons in the taillights have an extended teardrop quality for exceptional personality. Rain-sensing windshield wipers are standard across all trims. It you step up to the Launch Edition, your GR Supra will come with gorgeous 19-inch wheels.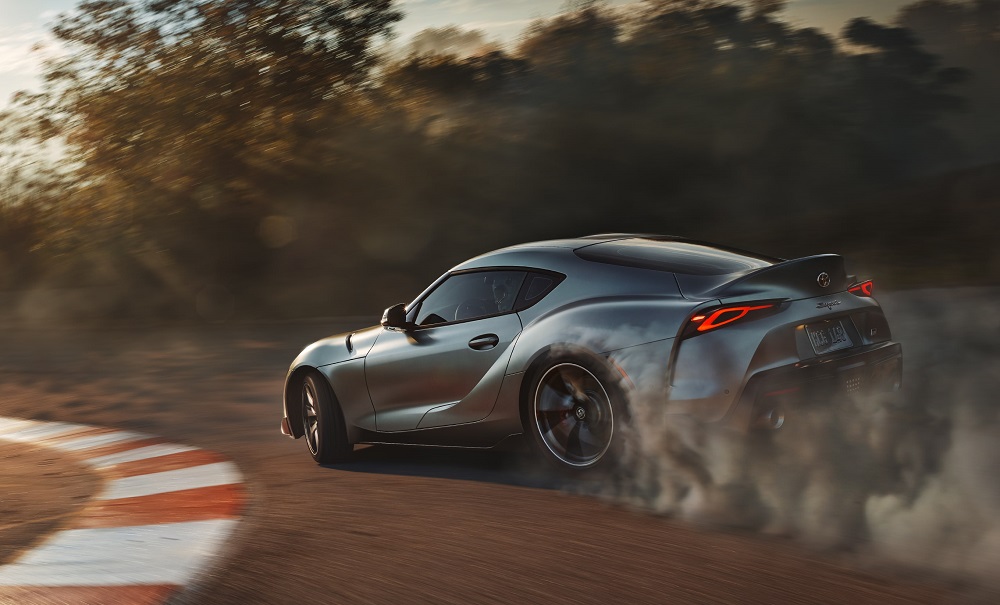 Interior – 2020 Toyota GR Supra in/near Warwick RI
The 2020 Toyota GR Supra is a 2-seat sports car with an elite cockpit-like interior that puts the driver in full control of a well-engineered machine. This is a car that undoubtedly will delight you with all aspects of its on-the-road performance capabilities. The supportive seats ensure comfort as your Supra jets down the road. The 2020 trim options are the Launch Edition, the 3.0 and the 3.0 Premium. Your GR Supra may have a 6.5-inch or an 8.8-inch color screen mounted in a central point on the dashboard, and it gives you control over numerous standard and optional equipment. At the base trim, the navigation system and a JBL audio system are optional. If you step up to the 3.0 Premium trim, you will enjoy a JBL sound system with 12 speakers and heated seats as standard equipment. The Launch Edition is a limited-run vehicle. It includes beautiful red leather interior and numerous tech and comfort features that are not available in the other trims. The Toyota sales associates near Warwick are available to explain trim-specific variations to you in detail when you arrive for a test drive.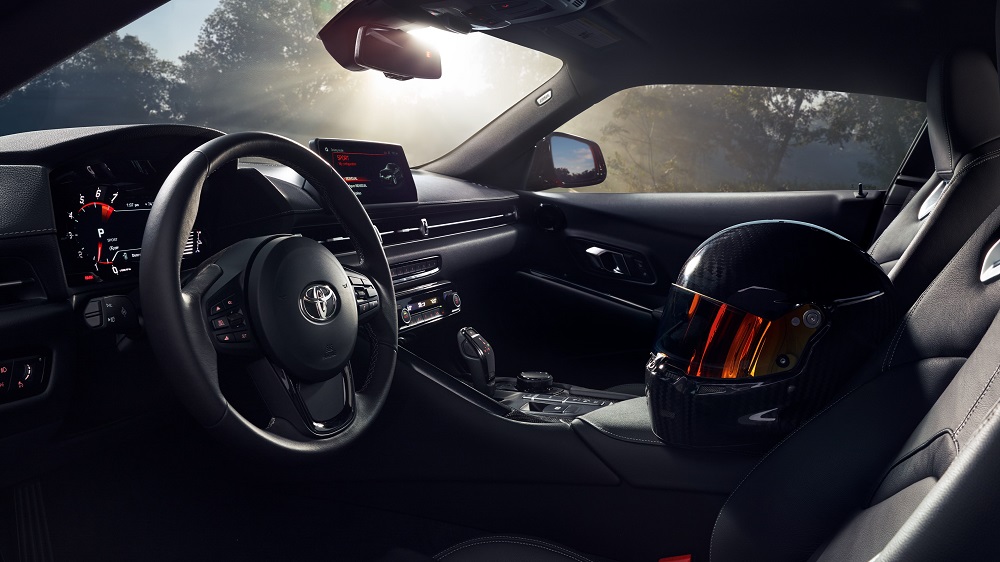 Mechanical – Toyota GR Supra specs in/near Warwick
The GR Supra for 2020 is an example of automotive engineering at its best. When you visit our Warwick-area Toyota dealership to experience its capabilities, you will be mesmerized by its overall responsiveness, agility and handling. The vehicle has been designed with the engine placed as far back as possible so that the center of gravity is as close to the middle of the vehicle as it can be. This is combined with a solid chassis, an active differential, an adaptive suspension system and Brembo brakes. The Pilot Super Sport tires add to the GR Supra's impressive abilities on the road.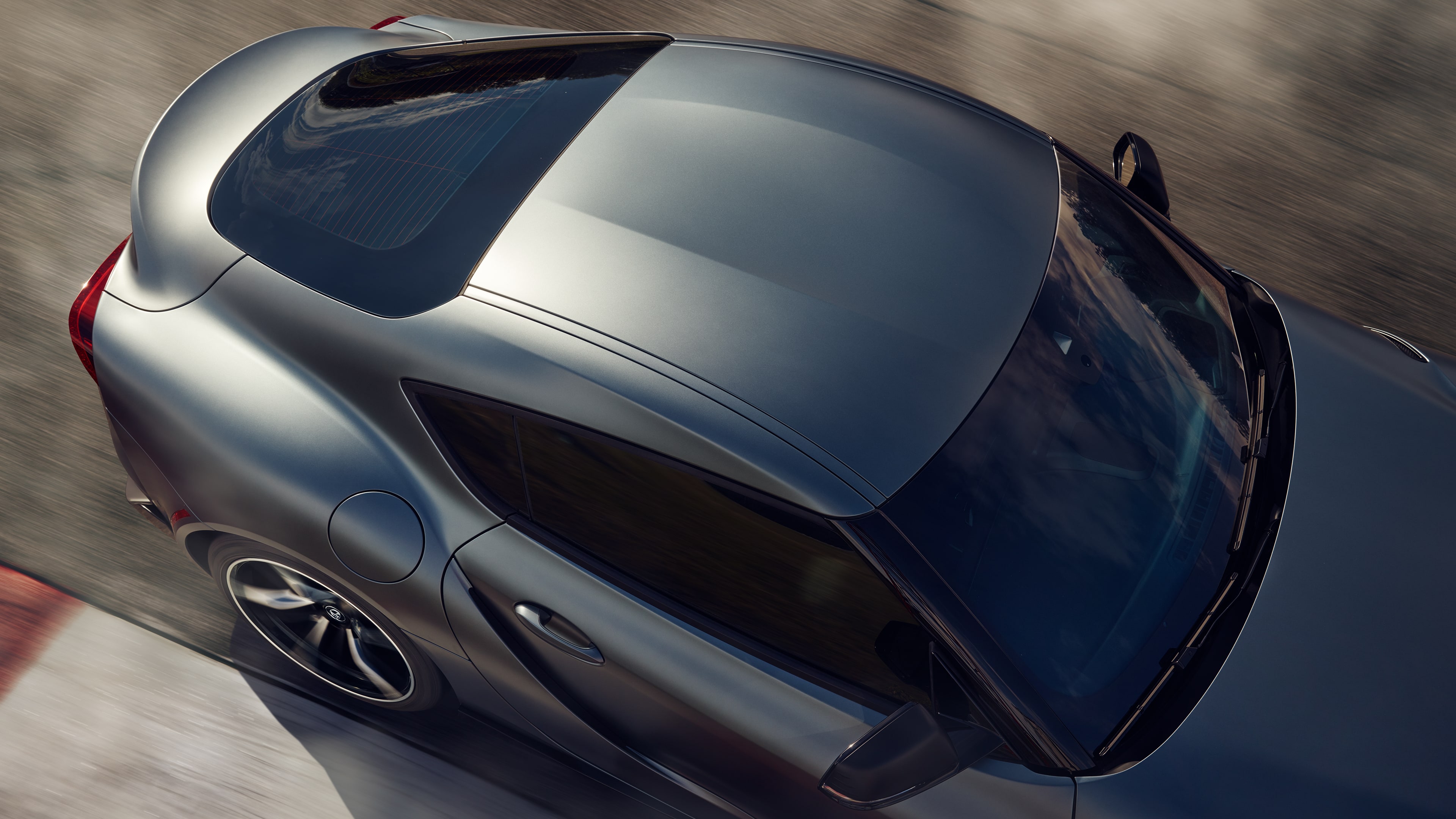 Safety – 2020 Toyota GR Supra dealer
This gorgeous sports car is designed to be a pleasure to drive, so you understandably want to take it out on the road every chance you get. While your primary interests may be centered around style and performance when you pick out a sports car like this, you also want to feel safe and confident when you put the pedal to the metal. The GR Supra comes with a full range of standard safety features across all trims, including airbags, 3-point safety harnesses, traction and stability features and even a forward collision warning. Several other features available as options in the base trim level for 2020, and these include numerous driver's assistive technologies.
While you could continue dreaming about how amazing it would be to own and drive a 2020 GR Supra, you could take the important first step toward ownership. When you contact our Warwick-area sales team, you can receive updates and learn about availability. You can also make plans to test out the 2020 GR Supra with an on-the-road experience soon. We are waiting to hear from you, so call the dealership today, or request details online.