New Toyota 2020 Toyota Tundra vs 2019 Ford F-150 – Tarbox Toyota for Sale in North Kingstown, RI near Warwick
2020 Toyota Tundra vs 2019 Ford F-150 – Tarbox Toyota
View Inventory


Vehicle Overview
In the full-size pickup truck category, perhaps no two trucks are quite as formidable as the 2020 Toyota Tundra and 2019 Ford F-150. Both have a long line of legendary models that have inspired greatness in competitors. They've created traditions and surpassed them, always living up to their own names. The trim lineup of the Tundra is slimmer than that of the F-150, but we see that as an asset. Choose from the SR5, Limited, and Platinum, a truly refined lineup of trims that will please every single customer out there, no matter how diverse their tastes are. A smaller trim lineup often proves to be less confusing and simply easier to choose from, and it's Toyota's Tundra that is giving you a refined lineup of vehicles that more accurately hit on your needs.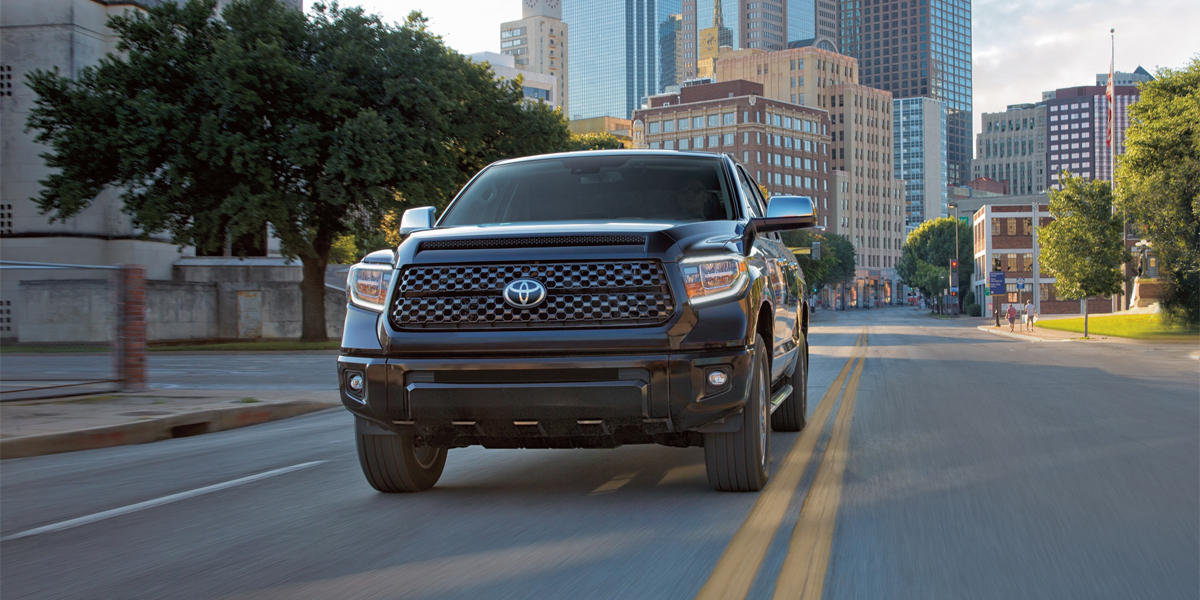 Exterior – 2020 Toyota Tundra
First things first: Both of these trucks are as beautiful as any in their class. They have big, bold, and imposing physiques, representing the best of their classes in terms of design. For its part, the 2020 Tundra surges ahead thanks to functional exterior features and aerodynamic design. What Toyota is most proud of about the design is that it is assembled in Texas, engineered in Michigan, and styled in California and Michigan, for a completely United States based design and assembly that shows off American ingenuity and grit. You won't find another truck this American if you keep trying. Toyota might not be an American company, but you can bet its Tundra is rolling off the line in the United States and representing the country proudly with every curve.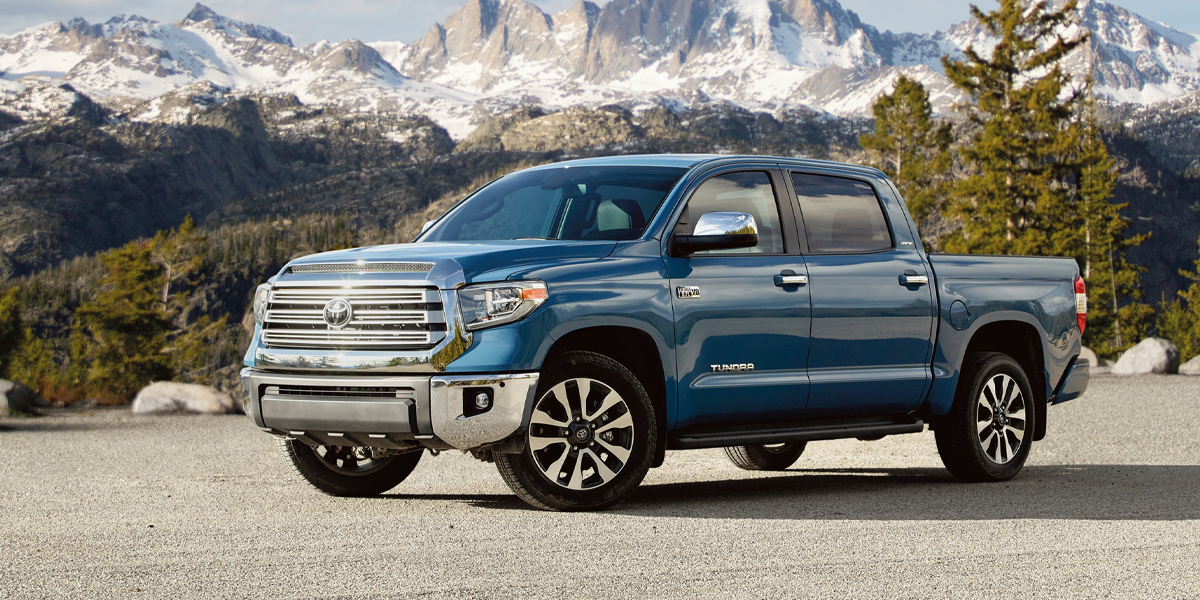 Interior – 2020 Toyota Tundra – Tarbox Toyota
The Tundra's Premium Audio with Dynamic Navigation and JBL gives you 12 speakers including subwoofer and amplifier for a premium sound that you just won't be able to bump out of a Ford F-150. And while Ford offers higher audio systems than it usually has in the past on the F-150, Ford doesn't usually design its F-150 to bump music the way Toyota is willing to give you on the Tundra. If you love your tunes, you're going to find three different systems to choose from, and they're even standard on many of the higher trims. Even if you're hard at work, music can sometimes motivate and inspire you, and it's the Tundra that gives you a soundtrack for your day in crystal clear sound. Other audio systems include a 9-speaker Audio Plus system and then the base 6-speaker system.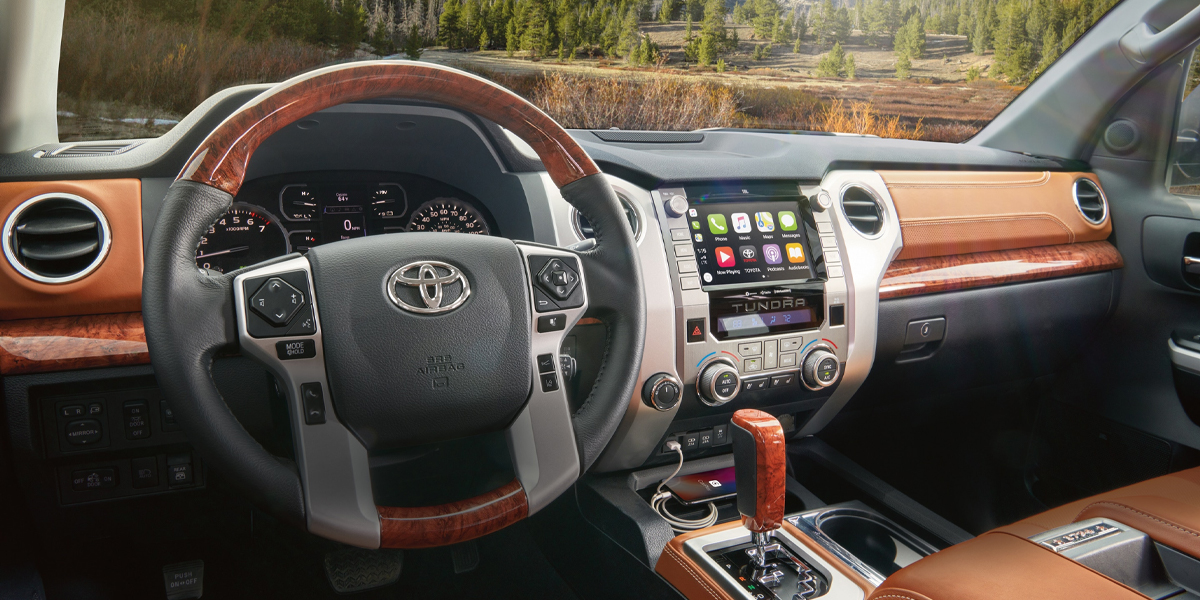 Safety – Tundra specs – Tarbox Toyota
The Tundra features Toyota Safety Sense, Toyota's main staple safety system that surpasses just about any other system on earth. You'll find that the Ford F-150's safety system to be much more rustic and not up to par with today's standards. Basic Toyota Safety Sense features will already surpass anything that the F-150 has up its sleeve, thanks to Pre-Collision Systems, Pedestrian Detection, and Dynamic Cruise Control. That's just the base safety system on the Tundra, so when you get into the advanced features, you're looking at an even wider suite of driver-assist features to keep you safe out on the road, such as the Star Safety System featuring Vehicle Stability Control, Anti-lock Brake System with Electronic Brake-force Distribution, and Smart Stop Technology (helping with gas mileage and efficiency). This entire suite of features makes the Tundra far superior to the healthy safety system offered by the F-150. We're not saying that there aren't great features on the F-150 in terms of safety, but we're saying that it's Toyota Safety Sense that you want to choose for safety on any type of vehicle, whether it's a sedan or full-size pickup truck.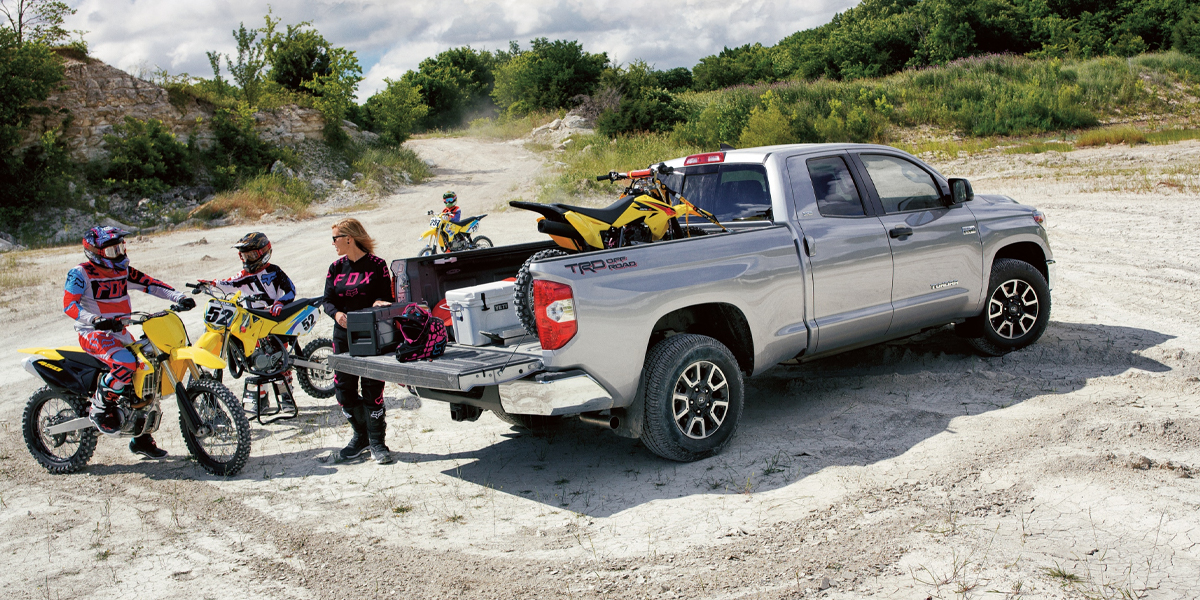 If you're on the hunt for a full-size pickup truck that looks rugged, has great premium audio sound, and flawless safety systems, the 2020 Tundra is the truck you want to come test drive at Tarbox Toyota. We're always making room for trucks of this stature, ones that really come across as something entirely special and apart from the pack. And while the Ford F-150, in any year, is always going to turn heads and be legendary in its own right, but in 2020, it's the Tundra you want to be seen in. We've already gotten enormous amounts of interest thrown at this edition, but it's still going to be difficult to convert you Ford fans out there. If you're uncertain about which full-size pickup truck is right for you, what you want to do is get down here and test drive the 2020 Tundra before you make a mistake and opt for the F-150. Don't settle for anything less than something special! Call us today to set up your full test drive of the Toyota Tundra. We'll be happy to show you just why it's the standout from this year's full-size truck crop. Call today.