New Toyota 2021 Toyota RAV4 Prime Review – North Kingston RI 02852 in North Kingstown, Rhode Island
2021 Toyota RAV4 Prime Review – North Kingston RI 02852
View Inventory


Vehicle Overview
A plug-in hybrid powertrain for a RAV4 might have sounded out of the question even 5 short years ago, but today's Toyota design teams are moving fast to capture the magic of modern technology. The times are moving fast, but the new 2021 RAV4 Prime is even faster. Its technology surpasses anything attempted by Toyota on the RAV4 in the past, and Tarbox Toyota, our North Kingston Toyota dealership, is here to share the good news in our full 2021 Toyota RAV4 Prime review. We're serving Warwick RI 2. Cranston RI 3. Newport RI with an excellent customer service experience and a super good deal on the new 2021 RAV4 Prime.
Exterior – 2021 Toyota RAV4 Prime
A lower front-end spoiler and sports style headlights create one of the sportiest SUV looks of the year, plug-in hybrid or not. In every way, the Prime is establishing its look as the quintessential SUV hybrid style, and you can bet that other automakers will follow Toyota's cue here. They've taken the deep down sporty goodness of the RAV4 and dialed it up times 1000. Thanks to elegant LED headlights and big, bold 19-inch alloy wheels, you also get a true sense that this is a luxury SUV, too. The fact that you can take it home from our North Kingston Toyota dealership here soon should be an exciting prospect. You can pick it up from: Warwick RI 2. Cranston RI 3. Newport RI. Plug-in hybrid vehicles are the most intriguing vehicles out here today, but that doesn't stop them from moonlighting as regular vehicles on the outside (just with a bit more futuristic glow).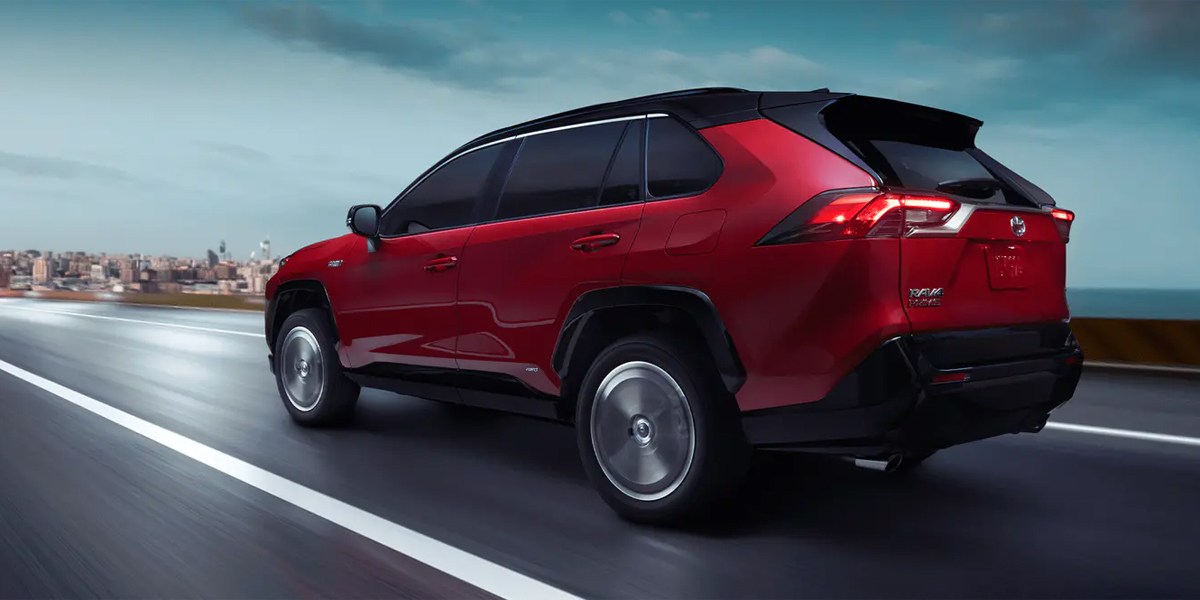 Interior – 2021 Toyota RAV4 Prime in North Kingston RI 02852
Perhaps the most important thing about modern plug-in hybrid vehicles is that they're not even noticeable as "hybrids" anymore. The interior is going to be your same high quality RAV4 interior but with distinct Prime badging. And with a name like Prime, you can expect an exciting interior. With paddle shifters, synthetic leather seating, and an out of this world moonroof, you're going to be traveling in a plug-in palace. Did we mention there's ambient lighting? Wireless device charging? More technology than you can possibly describe in a single 2021 Toyota RAV4 Prime review? Tarbox Toyota can assure you that you're going to be thrilled with the way this one looks when you open the doors up. Even the ambient lighting adds a touch of luxury you just wouldn't have expected Toyota to be able to offer for this price.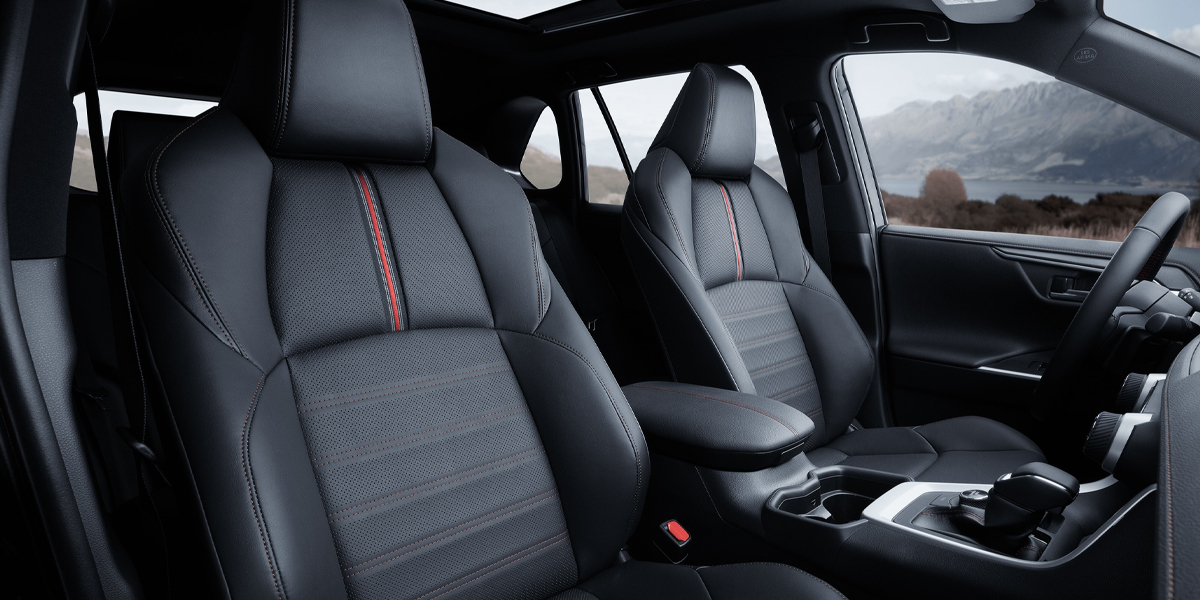 Mechanical – RAV4 Prime specs in North Kingston
Electronic On-Demand All-Wheel Drive gives you what Toyota calls "instant torque and thrilling acceleration" from the right distribution of power to the right wheel at all times no matter the weather. Road conditions are no match for your RAV4 Prime! The EV-only range of the RAV4 is 39 miles. Don't take 39 miles for granted. Just about anyone on earth has experienced the terror of seeing a near empty gas tank when they're about 38 miles away from an Interstate exit. If you're in the plug-in Prime, this time you're going to make that exit.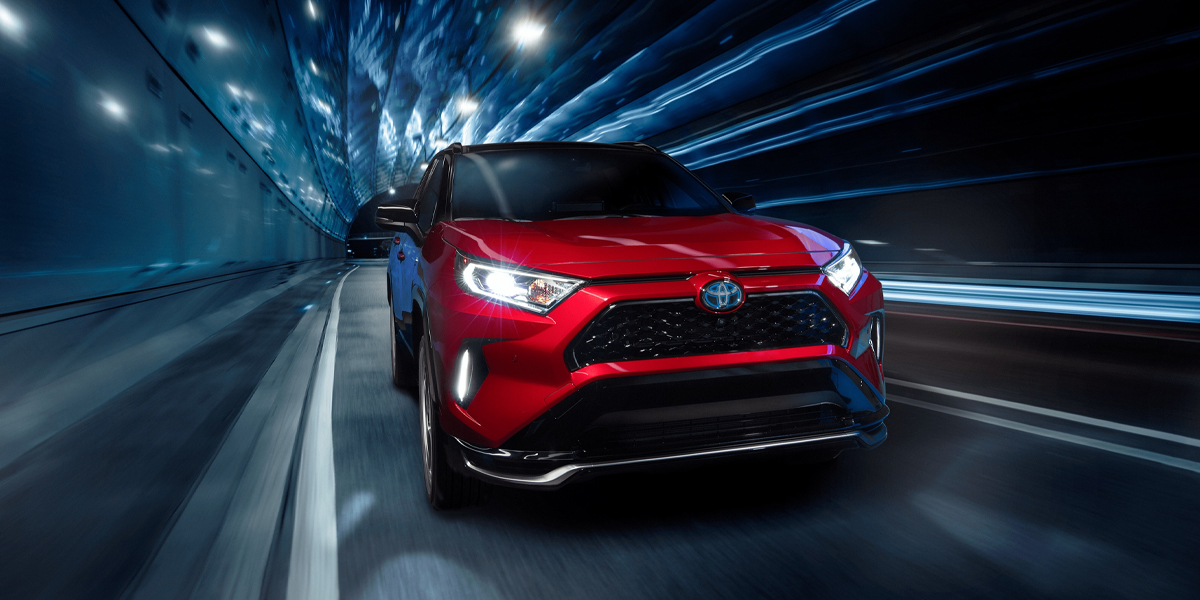 Powertrain – Toyota RAV4 Prime specs in North Kingston RI 02852
The RAV4 Prime can take things from 0 to 60 in a mere 5.8 seconds. That should be enough to let you know that Toyota managed to ramp up its hybrid powertrain to nearly impossible levels. Plug-in hybrid tech continues to improve, but you're not going to find another SUV in this class that can zip about the world quite as fast as the mighty RAV4 Prime. A lithium ion battery, 2.5-liter four-cylinder gas engine, and two electric motors are a formidable team here. It produces an outlandish 302 horsepower of ridiculously fun power. The RAV4 was always a hyper fun vehicle, but now it's unbeatable.
Safety – 2021 Toyota RAV4 Prime dealer
Toyota continues to increase its safety profile with each and every new vehicle they produce. While technology always moves forward and there's always more to add, the RAV4 Prime promises to bring in all of today's terrific driver-assist features: blind spot monitoring, automatic emergency braking, lane keeping systems, and a host of connectivity features that allow you to call for help during an emergency. While no official word is out yet on what the exact features of the RAV4 Prime will be, you can rest assured that your Toyota RAV4 Prime is going to include all of today's standard safety features and then a few more for good measure. We all believe that Toyota Safety Sense and OnStar services will be a part of the lineup. Stay tuned for updates on the precise safety features of the new Prime.
Tarbox Toyota is proud to be your preferred North Kingston Toyota dealership. Our 2021 Toyota RAV4 Prime review is serving the following areas: Warwick RI 2. Cranston RI 3. Newport RI. And if you're visiting us from anywhere else, we certainly welcome you, too! We welcome anyone who has an interest in one of the most amazing vehicles of the entire year, plug-in hybrid or not. Thanks to the unique way that Toyota designed the Prime, it gets a blistering 302 horsepower, an astonishing accomplishment for the team at Toyota. Please celebrate their accomplishment by calling today to schedule a test drive of the new Prime as soon as it arrives at our dealership. And you can reward yourself for discovering this rare gem by taking advantage of all our Prime specials this year. We'll get you a terrific deal on one of the most advanced plug-in hybrid models in history.
*Article for general informational purposes, for complete details please contact the dealership.
2021 Toyota Rav4 Prime Trim Level Guide – 2021 Toyota Rav4 Prime dealer near me